9 Ways to Make Your Clothes Look New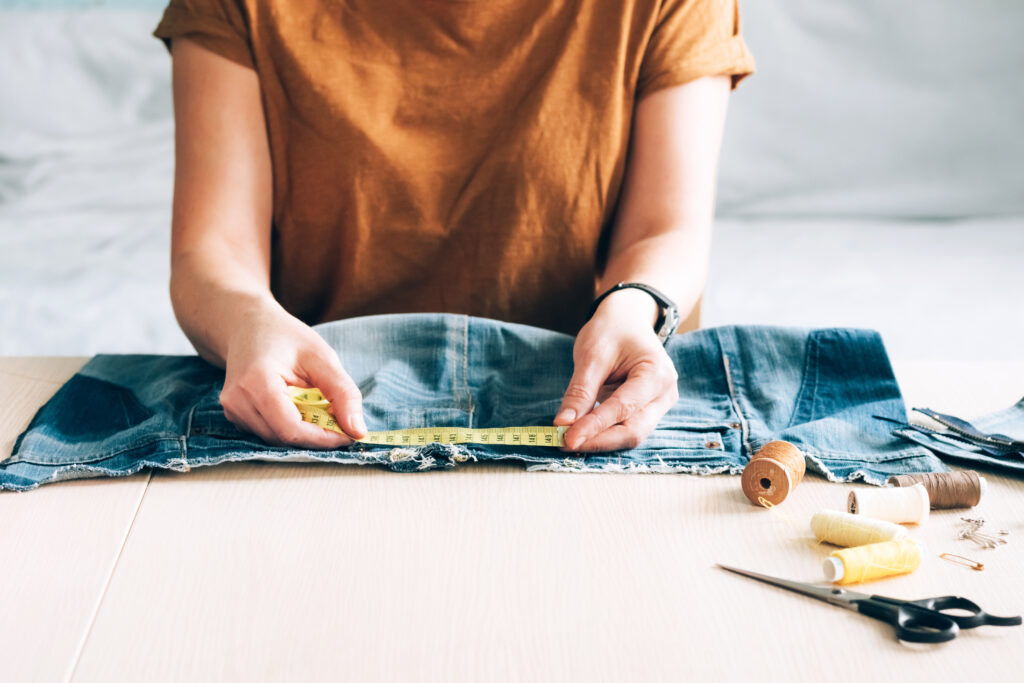 Head to the tailor
Most retail sizing doesn't provide an adequate fit for every shape and size—chances are, there are a few classic items in your wardrobe that you never had tailored (but probably should have). Whether it's a pair of too-long jeans or a slightly baggy blazer, getting a piece tailored to your shape will make it look and feel brand new.Your local tailor should even be able to turn a pair of straight-leg jeans into skinny ankle pants to update your look even more.

Experiment with dye
Maybe you have a favorite black shirt that's looking faded, or maybe you're looking for a way to update a basic white tee. Either way, utilizing fabric dye can help you freshen up some of your old pieces. Try a trendy dip-dye on an old white shirt to make it feel like an all-new piece.

Replace the buttons
Grab an old button-up cardigan and head to your local fabric store to select some new buttons. Whether you choose natural wood buttons, pearl buttons, or sparkly gem buttons, this is an inexpensive way to make an old cardigan or shirt feel brand new.

Spray with starch
Starch isn't just for pressing collars and cuffs—it actually makes clothing look new again by binding the fabric fibers together to give clothing a crisp (but not stiff) finish. Adding starch to your ironing routine will also reduce fraying and will act as a barrier against dirt and stains, increasing the longevity of your favorite pieces. For extra freshness, use a scented starch like Niagra Spray Starch Plus Original Lavender.

Iron out wrinkles
It may seem overly simple, but blasting out wrinkles with an iron can actually make your clothes look as new as the day you bought them. Most people today either don't know how to iron properly or don't take time to iron at all. When you iron your clothes with an attention to detail, you'll understand what you've been missing out on.

Wash inside out
You can keep your clothes looking new longer by washing them inside out to prevent fading. This is especially important for dark-wash jeans and clothing items with embellishments like sequins or beads. For added protection, hand wash these items or use the gentle cycle on your laundry machine.

Wear a slip or shapewear
You'll have reached the pinnacle of adulting when you have slips and shapewear in your closet. Most young professionals still purchase clothing with thin, flimsy fabrics to save money, but this results in distracting lumps and see-through fabrics in all the wrong places. Wearing a slip or shapewear underneath these flimsier clothing items will minimize those distractions and make your clothes look instantly more expensive.

Accessorize
A statement scarf or necklace can give new life to simpler shirts or sweaters you've grown tired of. Statement accessories command attention, and therefore need the support of an understated outfit to really stand out. With the right accessories, an outfit you've worn a hundred times before can suddenly feel like a whole new look.

Mix and match
Experiment with new layers and combinations of your basic and trendy pieces to make your wardrobe feel new. Layer a t-shirt or sweater over a dress to make it look like a new skirt. Wear tights under shorts to create a new fall look. Mix bold prints like florals or plaids with more neutral prints like skinny stripes for an easy style refresh.
Sometimes, even giving your closet a little TLC can help make your clothes feel newer. Rearrange clothing items by style or color for a fresh, organized look. Take things a step further by reconfiguring your closet to maximize storage space—read our tips here.
BACK TO CATEGORIES